I know the majority of WordPress websites are full width nowadays (they occupy the entire browser's width) but there are times when you just need a website that is boxed. Moreover, you'll want to be able to edit your background, change the background image or colour for that matter.
Good thing that we've thought about it when we created our popular multipurpose WordPress theme, The Core.
There is an option in the General Settings of the theme that lets you control your website's width at a press of a button (or to be more precise, at a drag of a slider). Bare with me, you'll understand in a second what I'm talking about.
Your website's width and background color
The general theme settings can be found under Appearance > Theme Settings. Locate the global settings section under General > General Tab. The page looks like this:
Here you'll find general options to control your website's width, background, logo and more. We are concerned only with the first two options from this list:
Website Width – lets you set a custom width for your website. By default, this option is set to full width but if you select the custom option you'll be able to select the width you want from the slider, the top, and bottom margin in pixels, the container background color, and your website's alignment.
Website Background – lets you select a background color for your website and a pattern overlay (choose one from the built-in options or upload your own)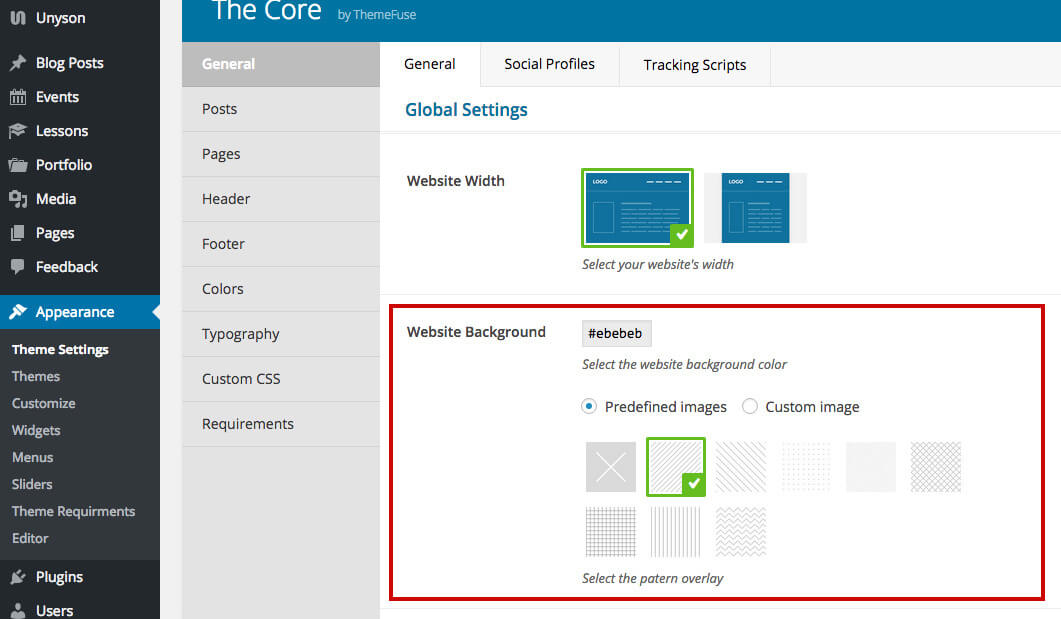 Test it for FREE, right now
If you are one (of the few :P) that didn't purchase our The Core multi-purpose WP theme yet, you can test it for FREE right now for 3 Days. Just press the button …