Another important thing to consider for your website right from the get-go is data recovery and frequent website backups. You might not think this website backup is important at this point and a lot of people tend to underestimate it, but the day your website crashes, (ok things happen and solutions exist), or even worse it gets hacked, you'll be able to recover your data in minutes.
How this usually works on other WordPress themes is you need to either install a paid (or free) WordPress backup plugin or get a monthly subscription to an online data backup service like CodeGuard.
Luckily you don't have to do that because our The Core multipurpose premium WordPress theme comes with a site backup extension out of the box. And what's more cool about it is that it takes 1 minute to set and all the back-ups happen automatically. No headaches going forward.
How to create a backup schedule
Create a backup schedule by following these steps:
Go to Tools > Backup.
Click the Create Backup Schedule button to bring up the options pop-up.
You can set different intervals for full backups or database backups only.
Full Backup – creates a full back of all your files including the data base.
Data Base Backup – creates a backup for your data base only.
Keep in mind<
Because a website doesn't change that much from day to day or even from week to week in most of the cases, it is advisable to set up a longer period for the full backup and a shorter one for the database backup.
For example, you can set a monthly full backup and a weekly database backup, but this largely depends on how often your website changes.
If you have a news website for example and you post articles every day, you'd want a shorter backup interval.
Restoring a backup
Restore one of the backups at any given time, by selecting the one you want and clicking the Restore Backup button.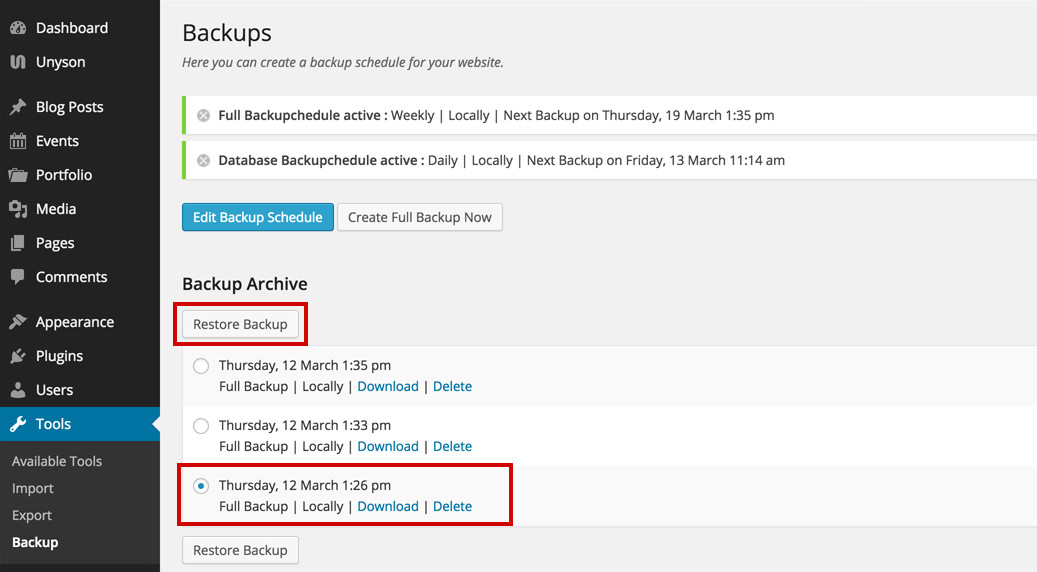 Better safe than sorry
Make a habit of downloading a full backup of your website on your computer from time to time. If something happens with your server it's possible to lose the backups as well (because they are stored locally on your server).
Test it for FREE, right now
If you are one (of the few :P) that didn't purchase our The Core multi-purpose WP theme yet, you can test it for FREE right now for 3 Days. Just press the button …